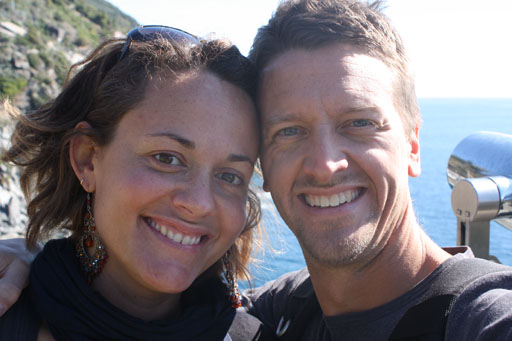 We are a husband and wife team that lives and works in Levanto, the nearest town to the Cinque Terre. Individually and as a couple we have traveled the world and continue to do so with our two daughters and one son. 
Douglas Heise is an American who has lived and worked in Italy for the past thirteen years. He has degrees from the Universities of Michigan, Cape Town, and Iowa. Doug also works as a translator from Italian to English, especially during the winters, and writes novels.  He was recently awarded the inaugural PEN America Grant for Translation of Italian Literature.
Erica Vecchione was born and raised in Parma, Italy. She has taught Italian as a second language for many years to foreign students and businessmen/women. She worked in the tourist industry and is a certified tour guide. She writes the blog vitadacasalinga.com (Life of a Housewife) and is a contributing blogger/columnist for the national newspaper Il Fatto Quotidiano.
Doug and Erica both love to cook, and are extremely knowledgeable about local wines and olive oils, having harvested and produced oil from their own olive grove.