When you own a piece of land that is part of a precious historical interchange between man and nature, you are inspired to do your best with it, even when it is a losing proposition financially and kicks your ass every time you hump up and down it trying to keep nature tame and hospitable.
Last spring, we performed a "drastic pruning" on this particular olive grove, lowering the trees from an unwieldy, bushy height of 25 feet to a measly bare trunk of 4 feet.  Since the olive is a resilient tree, during the summer it sprouted  tens and hundreds of shoots.   And so the time had come to select the few branches that are going to become the future of the tree, and prune the rest, which means cut all but three or four of the new shoots.
It was a gorgeous day, of which we haven't had many this spring, and the hill was as steep and unpleasant as always, but the work went quickly.  What's more, we now have a gorgeous view of the sea below us, which was previously hidden by the overgrown trees.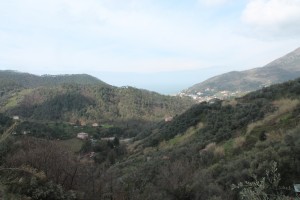 And slowly, slowly we hope to bring this land back.