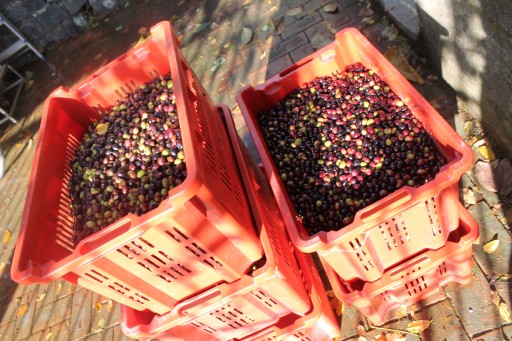 Olives waiting to be carted off to the press
From the outset, I must admit that the title of this blog post is perhaps specious … no one really "makes" olive oil by themselves, not unless you are the owner of a very large piece of machinery, or you have an old millstone and a dogged mule.  But to the extent that you personally can be the prime mover behind producing your own olive oil, it is possible, so long as you have the trees, the patience, and the same attitude as the aforementioned mule.
If you live in Puglia or in Andalusia, the work is infinitely easier, because the ground beneath your feet is flat.  Here in Liguria, olive groves are built on the sides of hills with impossible grades, and so the work gets tougher.  But the principles are the same.  Prune, fertilize, clear, lay nets, shake trees, collect olives.  Again and again.  In about 2 hours I'm taking the olives pictured above (about 80 kilos worth at my best guess) to the community olive press, and an hour after that I will be the proud owner of another 15 liters of superb extra-virgin olive oil, fruit of my own personal labor, and no one else's.  Price per liter, when you factor in all the costs, about 2 euros.  Wonderful, eh?
But there's another factor to be calculated: hours of exhausting work per liter.  Rough estimate: 3 hours.  Not quite as wonderful.
Nevertheless, we do it.  It's not making us rich nor will it even keep us in olive oil for the entire year (Our personal yearly production is somewhere around 30 liters, which will get us through September if we're lucky) , but as my dad might say, it keeps us off the streets.  And it's a labor of love and affection for this land.
And just a bit of advice: the next time you're buying the fancy shmanzy and criminally overpriced Tuscan olive oil from your specialty food shop, ask them if they've got any from Liguria.  Trust me, it's better.