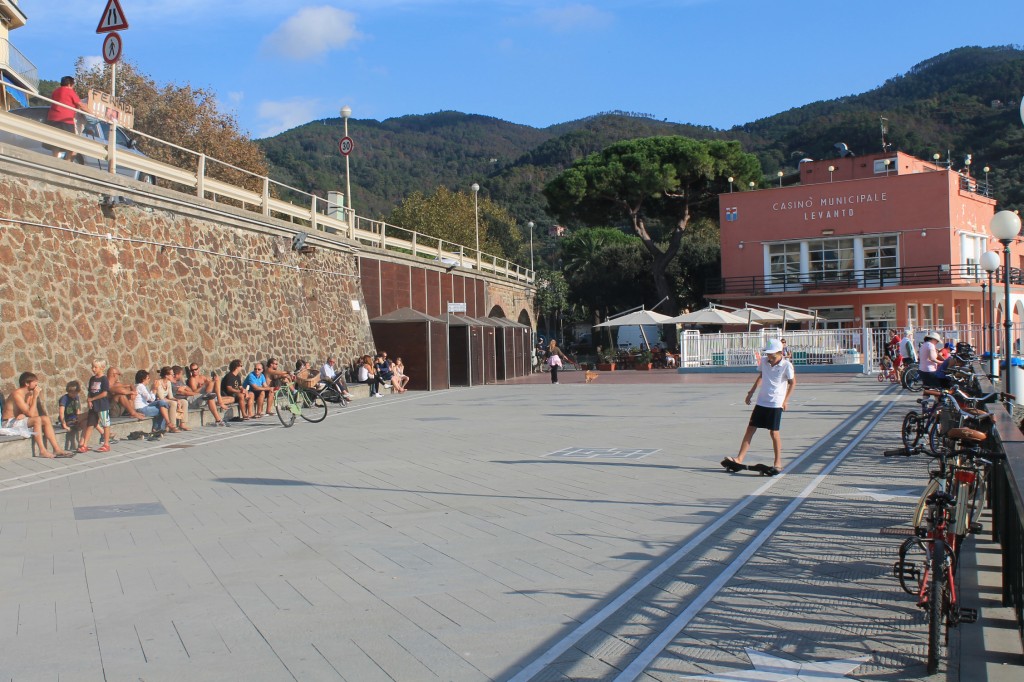 You won't find it on a map, but Porto Pidocchio is as real a place as it gets in Levanto.  A wonderful space along the edge of the beach, a sort of open-sided piazza on the water, Porto Pidocchio is the favorite local spot once the summer has come and gone but the days remain sunny and hot.  The reason it is not popular during the summer is that it doesn't exist during the summer, adding to its lore.
Officially known as Piazza Giovanni Agnelli (though you won't find it on Google Maps under that name either) in honor of the family that owned both FIAT and the most luxurious villa on the Levanto coast, this space which from mid-September to June is occupied mainly by sun worshipers, dog walkers, and kids disappears, swallowed up by the private changing lockers that are rented out to beachgoers all summer long.  Not only can you not play nor sit in it, there's barely any space to walk past it.  And though no one wishes that the beachgoers didn't come, seeing as how Levanto pulses to the economic beat of tourism, come Autumn those of us who live here are happy to get Porto Pidocchio back.
The name Porto Pidocchio is full of self-irony: it translates as "Louse Harbor".  That's because, presumably, those of us who line its benches and sit back against its hot stone wall are lounging around like nothing more than lice, parasites of the sun, not good for much else.  But when you live at the beach, you get used to getting your dose of sunshine, and luckily for us, when the sun comes out here, it is almost always hot, no matter the season.  And so we flock to Porto Pidocchio, like lice to a cur.
And so as of a couple of weeks ago, Porto Pidocchio was returned to us.  And we'll be enjoying it until the next vacation season rolls around.