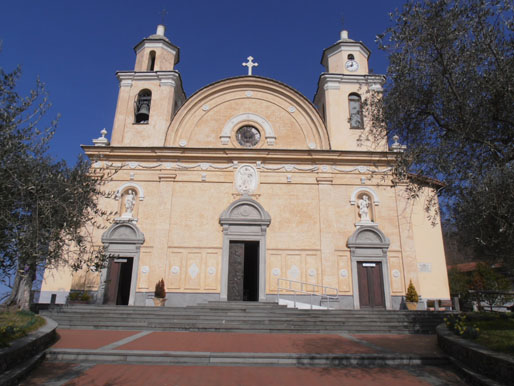 I've lived in Italy for 11 years now, and I have come to the conclusion that I will never know everything about Italian cuisine.  It's simply too vast.  It's also simply too tied to geography to ever possibly hope to try everything.  So much of the greatness of Italian food lies in its stubborn resistance to contemporary mobility: in Emilia you eat Emilian food, in Sardinia you eat Sardinian food, in Calabria you eat Calabrian food, and so on.  I lived for 10 years in Emilia, and even there I never got around to eating everything that the region has to offer.  Why just this New Year's Eve I was treated to the mariola, a variation on the traditional cotechino (a fresh sausage stuffed with pig rind, pig fat, and cheap pig cuts cooked for hours at a simmer): instead of the usual parts of the intestine, the mariola is stuffed in the upper reaches of the bowels, thus rendering it much bigger.  It haunted us all the next day.
The other day, we took a day trip to see the Marian Sanctuary of Roverano, a tiny inland hamlet of this part of Liguria, and to try the Ristoro del Pellegrino, the good-eats osteria attached to the Sanctuary.  Here in Roverano in 1350, the Virgin Mary appeared to a mute shepherd and gave him the gift of speech, and the subsequent devotion on the part of the local population is what gave birth to the remarkable church located on the site.  The church is lovely, and situated on a hilltop with a wonderful view of the Val di Vara.  And the osteria is lovely too: simple and warm inside (the fireplace was raging), no menus, just a few dishes prepared properly and in abundance for very honest prices.   No fewer than two priests passed through while we were eating.
I had the squid ravioli, something that, while not particularly difficult to find in Italy, I had never had before.  Seafood was not a high point in Emilian cuisine the way it is in Liguria.  It was fantastic, one of the best, most subtle dishes that I have had in an Italian restaurant in quite a while.  I am not a food writer, and can't pretend to turn the meal into words, but I do know this: if you are even slightly adventuresome, and you are willing to go a little bit off the beaten path, the infinity of Italian culinary miracles will surely repay your dedication.