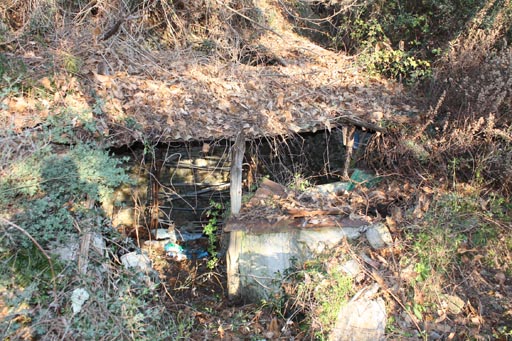 The land that we bought 5 years ago on a ridge high up between Monterosso and Levanto was once carefully cultivated by a kind old man whom I had the opportunity to meet twice.  Ernesto had worked this land since before the war, clearly remembering the time that he and others had discovered a wounded German soldier hiding on his property.  They took him in and cared for him, just as any farmer all across the continent would have done in his place.  It wasn't their war, anyway.
At the crest of the hill, from a position dominating the valley of Levanto and with a view of the sea in two directions, Ernesto had built a small stone shack without the help of mortar or machines, where he collected rainwater, stored the fertilizers for his vineyard, and fed his goats.  The few flat square meters in front of the shack were used for a vegetable garden.  And all around it were vines, held up by a painstakingly-built system of interlaced baling wire, their grapes slowly maturing in the hot Mediterranean sun.
That stone shack is still there, as is the rest of it … the fertilizer, the rainwater, the baling wire, the dry stone walls, the chestnut tree poles that will never rot if they are harvested during a waxing moon.  It's just that now, it is all overgrown and practically overcome by unwanted intruders: brambles, pine trees, wild heather, wild boars.  In the space of 7 years, nature has taken back what took generations to build and maintain.  And Mother Nature is neither farmer nor gardener.
It is going to take us ages to bring that vineyard back to life.  In truth, it may even be impossible to coax the old vines, which are still there, into producing anything new.  And so many people might wonder, why bother?  As a financial prospect, it's worthless.  We could never earn enough money off of the grapes to make it profitable.  And even if with time we learned how to make our own wine and sell it, there would never be enough bottles to cover costs.  Aesthetically, it's a lovely spot, but there are hundreds of others from which to gaze out on the valley and the sea, and which do not require chopping down 40-foot invasive pine trees so as to see it.  The shack's roof has caved in, the brambles are encroaching ever further, and I have no need to learn how to make goat's cheese either.
Yet … the vineyard speaks to us.  The hills speak to us.  They remind us of a past that was lived through hard work and dedication, where a war was fought and won, where medieval republics controlled the seas.  They remind me of a kind old man who spent his life cultivating this land, like his own parents before him.  It's going to take us ages to bring that vineyard back to life.  But back to life it will come.  The cycle of man and nature will carry on, as it must.