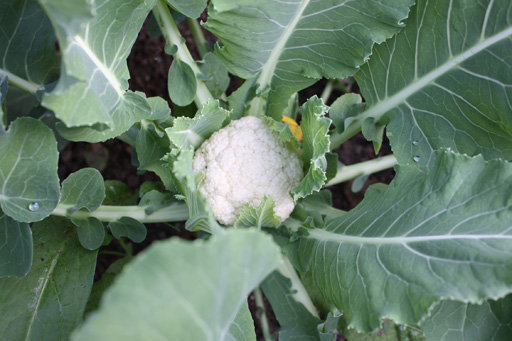 One of the greatest advantages of living on the Mediterranean coast is that it doesn't freeze here.  Ever.  Water pipes are laid carelessly above ground because they will never burst, citrus trees stand full of fruit in mid-December, plants have no need of greenhouses.  For all those who say that the winter without snow just isn't winter, I have only one thing to say … but I can't write it here.
We have a winter vegetable garden in Levanto, and if you are lucky enough to live in a climate that will support one, you should have one too.  You'll hardly ever need to water it (winter being usually damp and rainy already), weed it (even the weeds are less aggressive in the winter), or even think about it.  Prepare and fertilize your planting bed, get the seedlings into the ground, and watch it go.  It's a true gift from the earth, because of the relative ease with which it yields up its goodness.  Watching it grow is pure pleasure.
It's true that you have to have a taste for cauliflower, cabbage, broccoli, chard, and fennel – all among nature's less-exciting veggies – but eating boring but fresh winter vegetables from your own garden is always vastly superior than eating imported tomatoes from South Africa that have the firmness and taste of a tennis ball.  And in a moment when the economy isn't exactly running on all cylinders, a bit of farming to save on groceries doesn't hurt either.