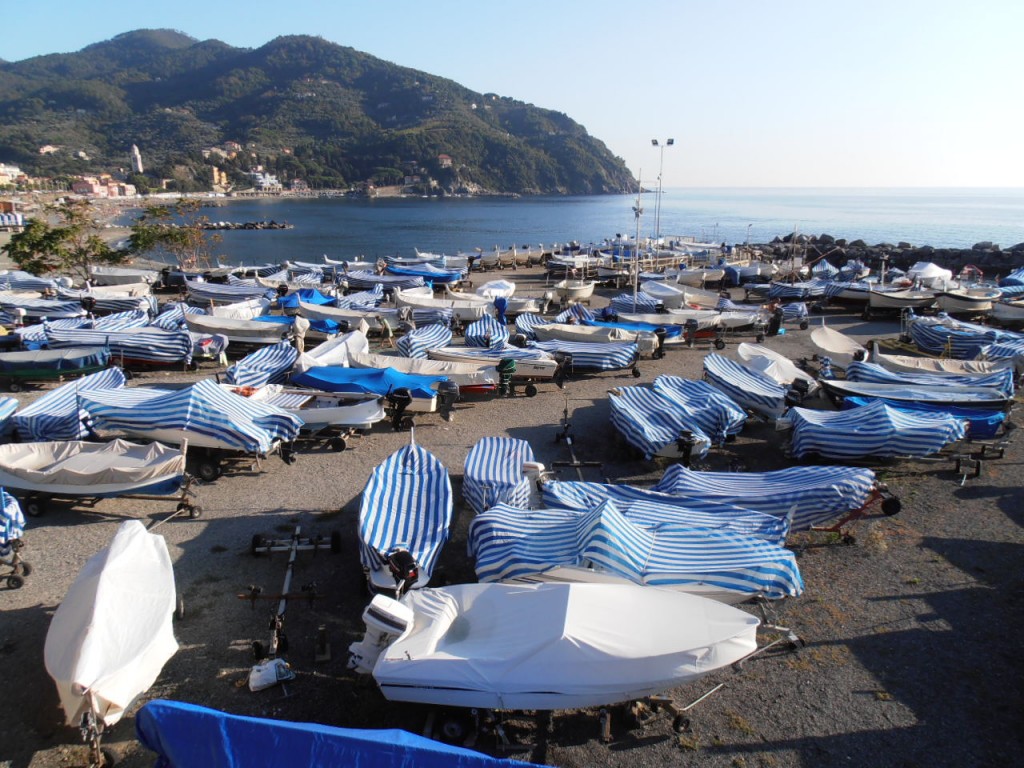 My grandfather, whose nickname was Fish, had his origins in a fishing village in Norway and spent much of his free time on the waters of Lake Michigan near Charlevoix.  Two of his brothers moved East and worked the fleet out of Gloucester, Mass.  My father is an avid fisherman and my brother even tied his own flies until fatherhood tied him up in more important matters.  Even my father-in-law loves to fish.  I've heard more stories about ice fishing and trout fishing and lake fishing and all of the accoutrements therein than most people could imagine.
I'd never heard quite a story, though, like I heard the other day from Sandro of the Macelleria Sandro, our new favorite butcher in Levanto.  Instead of the usual pictures of happy cows and pigs or detailed drawings of their anatomy, Sandro's walls are covered with pictures of fish, almost every last one of them being held by a smiling Sandro.  Actually, it isn't completely true to say that he is always holding them … at times they are so enormous that they are hanging from the meat hooks in his butcher's shop, larger than any side of beef that you will see.  Clearly they had come out of the wonderful waters near the Maritime National Park of the Cinque Terre, so it was obvious that I would ask him about his technique.
It turns out that Sandro and his friends are old-school fishermen.  As he tells it, a day of fishing with him is about a 10 hour affair on the open water.  Load up the boat, a 20-foot wooden fishing boat, and head for the right waters at the right time.  Rig up.  The tackle required is a lead weight of roughly 15 pounds with 1000 feet (!) of cord, 10 pieces of thirty-foot line with a hook at the end and tied one to another, sardines for bait, and some serious arm strength.  Drop it all down to the bottom, troll for hours, then pull up.  The best is still to come: once you've winched up the lead weight, you fight whatever and however many fish you have on those ten hooks by hand.  By Hand!
I was so sure I had misunderstood the unfamiliar Ligurian accent that I asked twice and then confirmed the fact with Sandro's son.  There's a picture of a grouper on his wall that's the size of a pig, a louvar like a tractor tire, and a swordfish weighing 240 lbs.  By hand!  Sandro claims swordfish are easy to pull in, especially compared to tuna, but 240 pounds of fish is still a lot of fish.
In my last teaching job, I did Hemingway's The Old Man and the Sea with a couple of students.  Religious imagery aside, we were struck by the importance of Santiago's hands, how they seemed to have a life of their own, how he had used them to win a legendary arm wrestling bout in West Africa, how they first betrayed and then finally obeyed their master and hauled in the marlin of a lifetime.  But that was 1950s Cuba in the fertile romantic imagination of our great writer.  I never thought I would meet anyone who would do the same thing.  And yet to listen to Sandro, he's not alone in fishing this way.  It's how it's always been done around here.  And it's true that despite there being fishing boats lined up all along the beach, nowhere can you find fancy downriggers, pole holders, cushioned seats with harnesses, fishfinders, or radar.
When you make the choice to leave cities behind for what you hope will be a simpler life in a small town, you always imagine that you will recover something of the past, maybe of traditions that pre-date even your own birth.  To listen to most people, this is a fool's errand and the old ways of the past have been swallowed up by the steady march of globalization.  I don't know exactly what things my own romantic imagination was hoping to find in Levanto, but reeling in big fish by hand certainly feels like one of them.